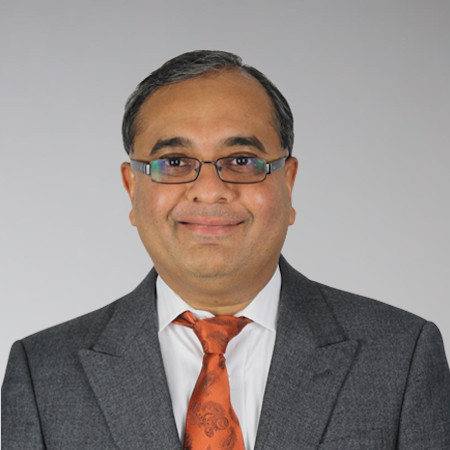 Vagmin Vora, MD
Orthopedic Spine Surgeon
Vagmin Vora, a native of Bombay, India, is an alumnus of Topiwala National Medical College – Bombay University, where he received his medical degree and of Sir J.J. Group of Hospitals – Bombay University where he completed his orthopedic surgery residency. He did two fellowships, one in pediatric orthopedics at Cincinnati Children's Hospital and Medical Centre in Ohio, and another in spine and scoliosis surgery at the Hospital for Special Surgery and Weil Medical College Cornell University, New York, NY.
Dr. Vora has been a practicing spine surgeon since 2004 in India and in various locations in the U.S. He served as an attending spine surgeon at Penn State Hershey Medical Center and as an assistant professor of orthopedics at Penn State University College of Medicine in Hershey, PA. He was most recently in private practice in York, PA and Oxon Hill, MD. He also currently serves as the Assistant Director of Robotic Spine surgery at Hudson Regional Hospital in Secaucus NJ.
Dr. Vora is licensed to practice in several states, including Pennsylvania, Michigan, New York and Maryland as well as the District of Columbia.
SPECIAL SERVICES
Dr Vora's areas of expertise include:
Robotic Spine Surgery
Minimally Invasive Spine Surgery
Minimally invasive spinal instrumentation and fusion
Cervical and Lumbar disc replacement surgery
Kyphoplasty / Vertebroplasty
Spinal Decompression
Spinal Deformity Surgery
HOSPITAL/SURGICAL CENTER AFFILIATIONS
Beth Israel Hospital, Brooklyn
Beth Israel Hospital, Manhattan
Hudson Regional Hospital, Secaucus NJ
PROFESSIONAL AFFILIATIONS
2013 North American Spine Society
2010 International College of Surgeons
2005 Indian Orthopaedic Association
2005 Association of Spine Surgeons of India
2005 Bombay Spine Club
2005 Bombay Orthopaedic Society
2005-2007 American Academy of Orthopaedic Surgeons
PRESENTATIONS
Dr. Vora has extensively lectured in India, England and all over the U.S. He's made nearly two dozen national and international presentations regarding back and spine issues.
Rate Dr. Vora