Tenex (Tendonitis Procedure)
Tenex is a trademarked procedure commonly used to treat chronic pain and functionality issues caused by tendonitis of the knee, shoulder, elbow, hip, ankle and foot.
During a minimally-invasive Tenex procedure, damaged tissue is removed without the involvement of an arthroscope or an open surgical technique. The incision made for the procedure is so small it doesn't require stitches.
This procedure is also known as a percutaneous tenotomy or percutaneous fasciotomy.
Conditions Treated With Tenex
Examples of tendinitis and tendon related disorders that may be treated using the Tenex Procedure include:
Bicep Tendonitis
Calcific Deposit in the Tendon
Hip Tendonitis
Jumper's Knee
Rotator Cuff Tendonitis
Swimmer's Shoulder
Candidates for a Tenex Procedure
Most patients with tendonitis or a minor tendon injury will be able to resolve or managed the condition using conservative treatments. Conservative treatments for a tendon disorder may include activity modification, cortisone injections, physical therapy and pain medication
A patient with tendonitis may be a candidate for a Tenex procedure if conservative treatments fail to provide adequate relief.
The location and severity of degenerated tissue need to be evaluated by a physician to determine if Tenex is an appropriate form of treatment. An evaluation would include a physical examination, x-rays, and an additional imaging test (MRI or CT scan).
Most candidates for Tenex suffer from chronic tendon pain due to a a high-level of activity caused by athletic endeavors or repetitive motions related to work.
The Tenex Procedure
This advanced, non-surgical treatment option uses ultra-sound imaging and patented TX MicroTip technology to remove damaged and degenerated tendon tissue.
Ultra-sound imaging is used to identify scar tissue in the affected area.
A local anesthetic to numb the area being treated.
A small toothpick sized instrument is inserted into the damaged tendon and delivers ultrasonic energy. The ultrasonic energy is used to remove damaged tissue without disturbing healthy tissue.
A Tenex procedure takes approximately 20 minutes and is typically performed as a one-time treatment.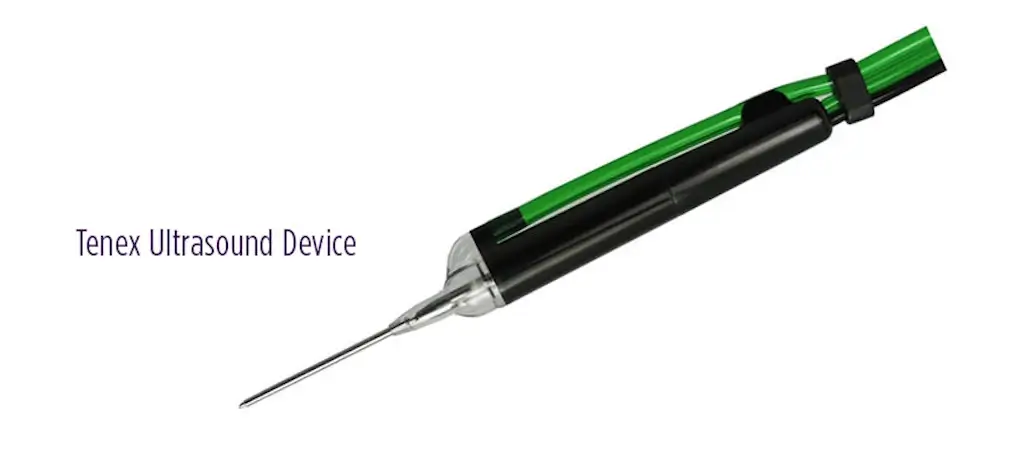 Tenex Recovery
Recovery after Tenex can take anywhere from 4 to 12 weeks, depending on the location of the tendon disorder.
The area may be need to immobilized temporarily with a splint, brace or walking boot. Rest will be recommended for at least a few days after the procedure. Most patients will be able to return to work within a week or two. A post-procedure treatment plan typically includes exercises to restore mobility and strengthen the joint.
The recovery time is significantly less than a surgical procedure because the surrounding tissue is not disturbed.
Tendonitis Treatment at The CMD
If you suffer from chronic pain or recurring symptoms due to tendinitis or a tendon disorder, call one our Orthopedic Centers and schedule an appointment to have your condition accurately diagnosed and evaluated by an orthopedic doctor or podiatrist.
Our specialist can determine if you are a candidate for a Tenex Procedure and advise you of any other possible treatments available after comprehensive evaluation.